Founder of United Diversity
Curator of the United Diversity Library
Co-founder of The Open Co-op
Co-founder of Better Media
Director of Development Co-op (a co-op of Co-operative Development Bodies)
Former Associate of P2P Foundation (and occasional contributor to their blog), before Michel Bauwens lost it.
Served on the board of Co-operatives London (and built and manage website)
Previously Campaign Coordinator at Media Reform Coalition (started the London Media Democracy (now Better Media) Meetup, organised the Media Democracy Festival, commissioned this film, gathered these resources, and made the website)
Previous National Organiser for Campaign for Press and Broadcasting Freedom (CPBF) (and built the website)
Author of Open Co-ops: Inspiration, Legal Structures & Tools
(since referenced in leading Social Enterprise text book 'Understanding Social Enterprise, 2nd Edition', and The Oxford Handbook of Mutual, Co-Operative, and Co-Owned Business), and

Not a Co-op? Not a Platform Co-op!
(referenced by Shareable's Platform Co-op Explainer and the Cooperative Platforms in a European Landscape: An Exploratory Study report)
Connect via Mastodon, Matrix/Element, Bluesky. Facebook or Twitter, or read testimonials from great people gathered from my LinkedIn page.


Member of
CoTech The UK network of Cooperative Technologists
Platform 6 Trying to help put together a working group to spec out and build a co-operative crowdfunding platform and member/ share register/ management platform.
The Online Meeting Co-operative Their first paying customer-member :)
Cooperatives Europe's Working group on cooperatives and the collaborative economy
FairShares Association Contributed to the development of the model rules
Rural Urban Synthesis Society RUSS is a volunteer-led Community Land Trust based in south London, I gave early legal structure & strategy advice & have spoken at lots of their public events
Worker Coop Solidarity Fund Active member
Greenwich Co-operative Development Agency Also made website and spoke at Housing Workshop at AGM
Co-operatives London Served on board, made and manage the website, do a bit of social media
Ecological Land Co-operative Steward member and invested £1000 in our first Community Shares offer but since withdrawn most of it because I needed the money! :P
The Phone Co-op Long-term customer and member
Rootstock (invested £100)
Lammas Ecovillage (invested £50)
Fordhall Community Land Initiative (invested £50)
Permaculture Association Also created the first map of LAND projects
London Rebuilding Society (won £250 of shares at their launch)
The Co-operative Party
Ecosystem Restoration Camps
The Co-operative College
Co-operative News
UK Society for Co-operative Studies
Sutton Community Farm Invested £50 in their community share offer
New Internationalist Invested £50 in their community share offer
Open Rights Group
Mutual Interest Media

In order to create the media I want I give regular financial support to
(i.e. subscribe and/ or regularly donate)
Better Media
STIR Magazine My favourite magazine by far
openDemocracy
The Land Magazine Why does virtually no one else write about the crucial issue of access to land and land ownership?
Permaculture Magazine
YES! Magazine
ROAR Magazine
Ethical Consumer Magazine
Novara Media
Real Media
Red Pepper
Dark Mountain
WikiMedia Foundation Because who doesn't use Wikipedia nearly everyday?
The Laura Flanders Show
Shareable
See also Co-op News, News Internationalist, Open Rights Group and Mutual Interest Media above.
Workshop and Speaking Engagements:
2017:
October 8th
Spoke on the Digital cooperation: platform cooperativism panel at Ecopolis in Brussels, Belgium.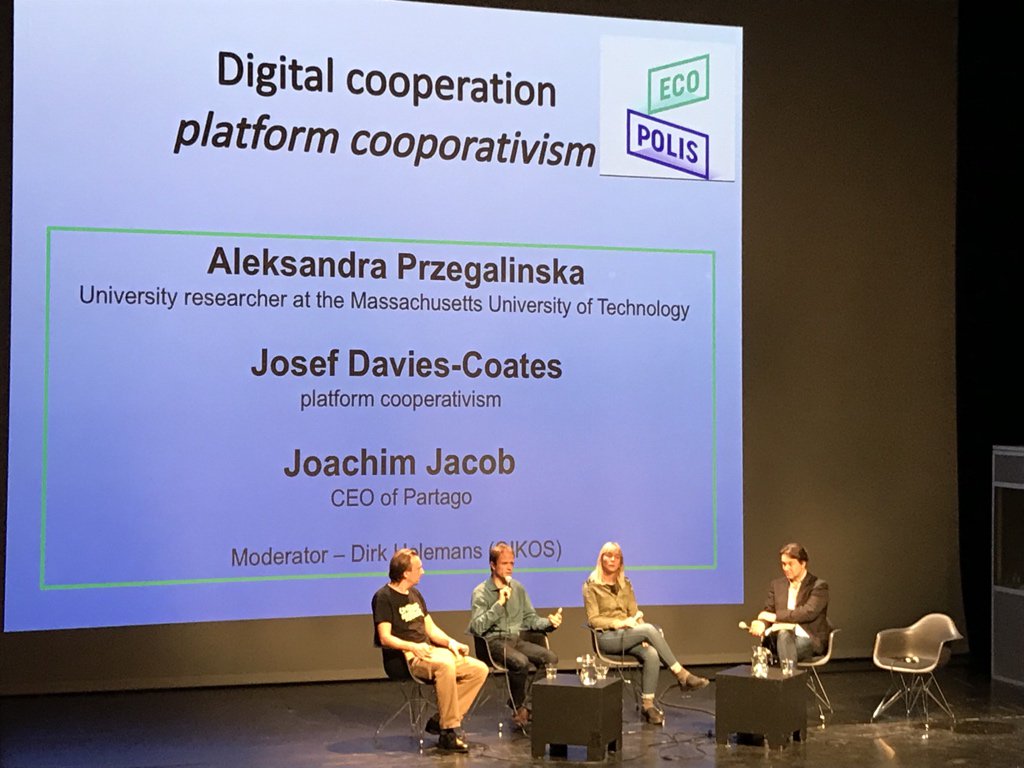 July 1st
Creating a Movement for Better Media in the UK I had a nice Storify here, but sadly Storify is no longer :-/


February 16th-17th
Co-produced, spoke at and hosted the international Open 2017: Platform Co-operatives conference at Goldsmiths, University of London which attracted over 400 people trended nationally on twitter.


2016:
November 12th
Spoke at Platform Co-operativism: Building the Cooperative Internet at the New School in New York:
September 9th
Invited to speak to the Greater London Authority's Regeneration team on Cooperatives: A role in regeneration?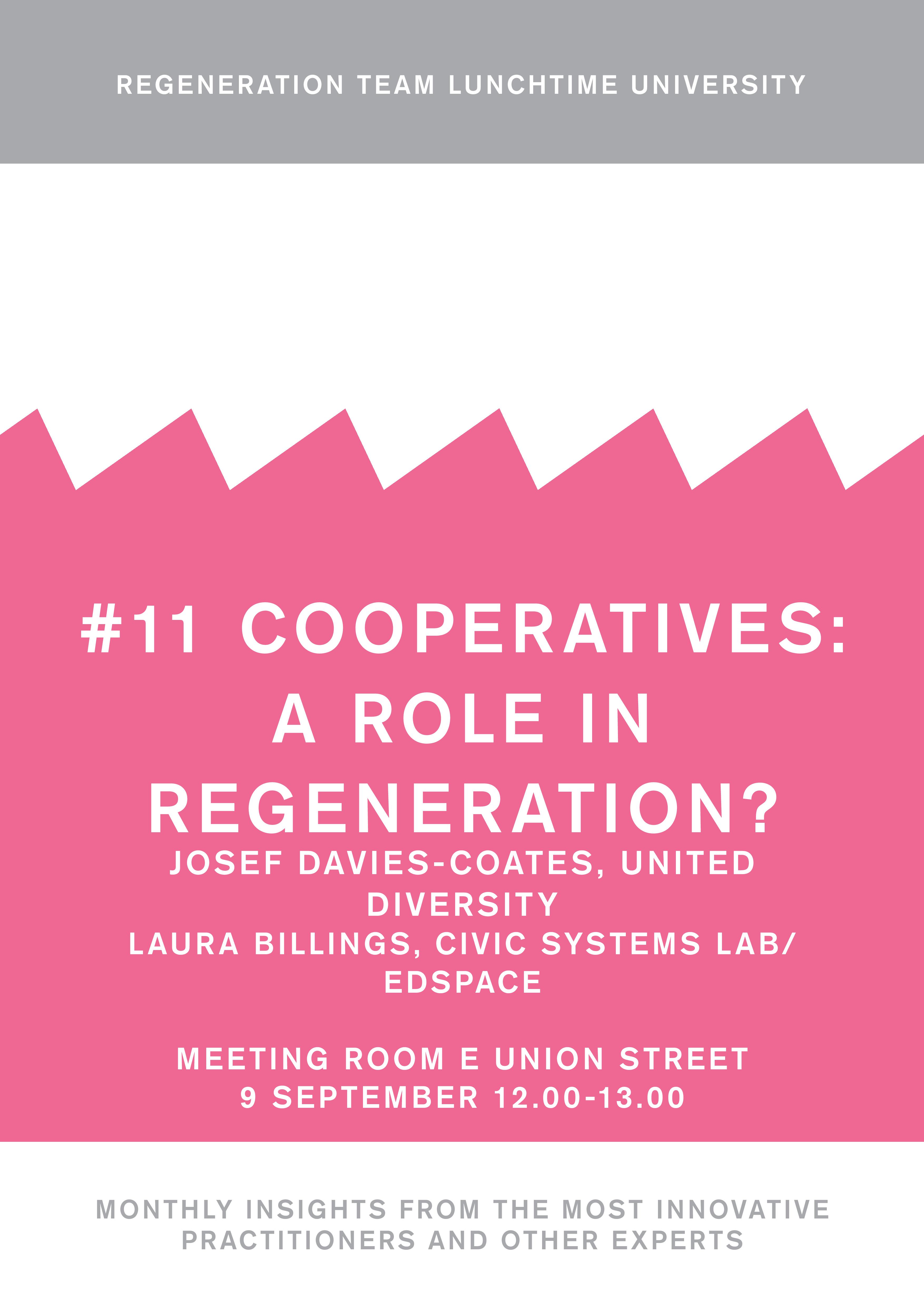 September 2-3rd
I spoke at and moderated two sessions on "From Platform to Open Cooperativism" at the PeerValue: Advancing the Commons Collaborative Economy conference in Amsterdam
August 31st
Wearing my CPBF hat I gave a talk on Media Reform, Regulation and Accountability (.pdf) at Citizen Beta's Transforming Media event. The talk was largely based on A Manifesto for Media Reform (.pdf) put together by the Media Reform Coalition and the Campaign for Press and Broadcasting Freedom.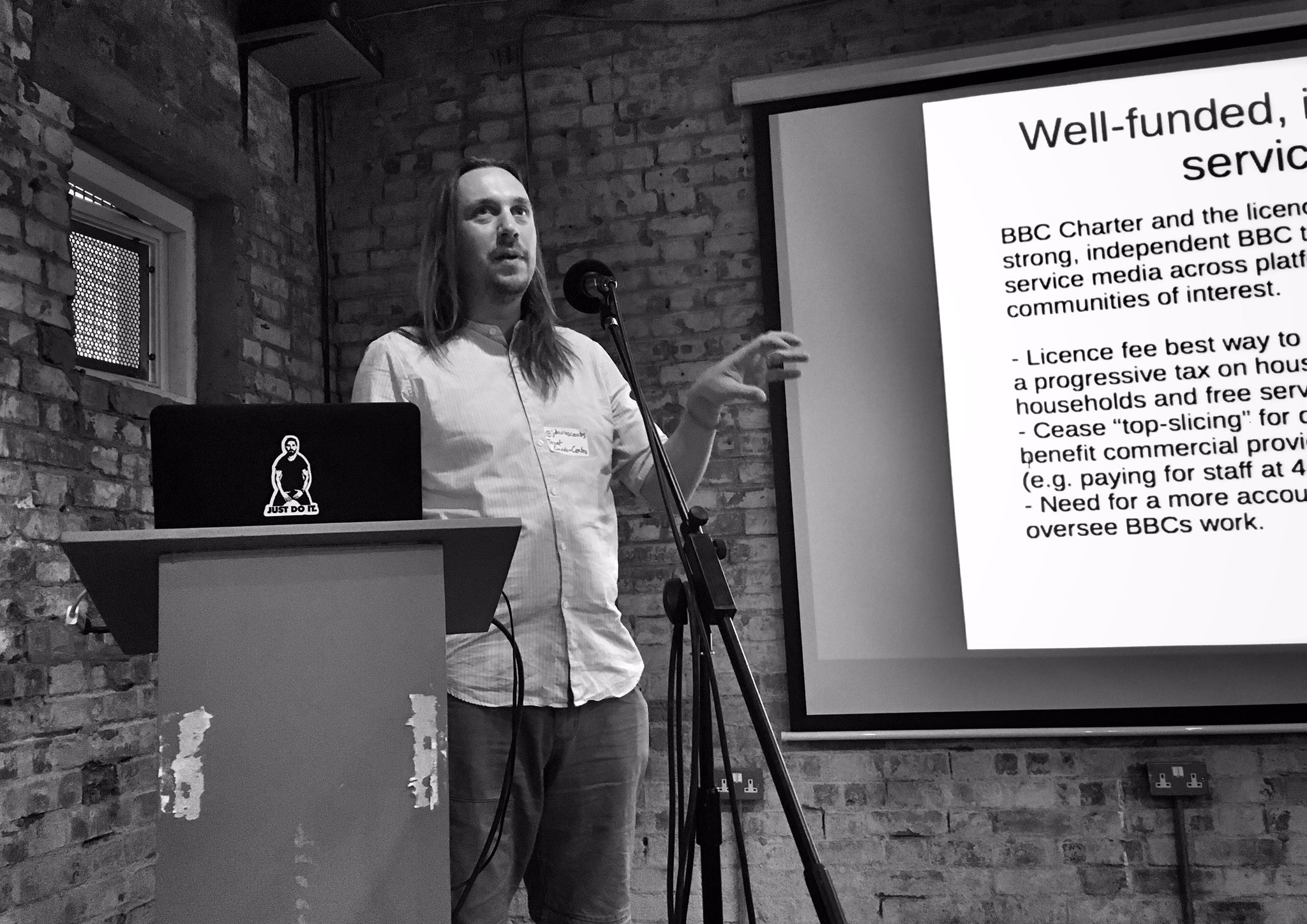 March 10th
Greenwich Co-operative Development Agency AGM Helped to deliver the Housing Workshop. Spoke about Community Land Trusts (i.e. London Community Land Trust and my involvement with Rural Urban Synthesis Society), Cohousing (e.g. Low Impact Living Affordable Community) and Housing Co-operatives (especially Sanford Housing Co-op where I lived for 5 years).
2015:
November 20th:
Invited to join the Business Models for Cooperative Higher Education workshop led by The Social Science Centre whose notes from the day can be found here.
October 17th:
Organised the Media Democracy Festival. See #MDFest15.
September 5th:
Gave a talk on Cooperative Commons at the UK Co-operative Studies Society Annual Conference Exploring the Common - Co-operatives and the alternatives. Earned the slightly embarrassing accolade of being the first person to be invited to speak at the conference based on their Facebook posts.
August 15th:
St Ethelburgas Phoenix Project Ran a session on What emerging ownership, governance and exchange innovations reflect the new economy? Began with an introductory talk on Co-ops and Commons and then led a group of 15 people on a Bike Tour of Co-op, Community and Commons-based projects around London. Planning notes with lots of useful links here. Rough map of tour route here. This is what participants had to say:
Cycling between the various projects gave a real sense of the interconnectedness of the city and London suddenly felt more human. The projects we visited were inspiring and diverse and showed that a different way of doing things is not only possible, but is happening right now. Josef shared his extensive knowledge and contagious enthusiasm throughout the day and I would highly recommend this tour to absolutely anyone.
This cycle tour was a beautiful way to see London and especially all the new ways that London is being re-imagined and re-claimed. All the projects allowed us to connect to wonderful people and see in practice what is happening with co-operatives. We were also allowed to seek their advice and knowledge as well. Josef was a patient and well connected guide. He could have shown us so much more. Highly recommended!!
This was one of my most memorable and enjoyable days out in London. It was so different. I do not regularly cycle in the city (in fact, this was my first day cycling in the city) and was a little nervous. But the sun was shining, Josef was a super-confident, enthusiastic leader and took us on a true adventure of inspiring grass-roots and community projects and initiatives happening around London. Wherever we went we were welcomed. The whole atmosphere of the day was one of inspiration and awe at what ordinary people are doing everywhere around the city behind the scenes. It was a powerful experiential learning experience that I would recommend to anyone interested in new ways of organising and collaborating.
This tour really opens your eyes to the exciting cooperative and commons activities happening on the ground in London - I had no idea there was such cool stuff happening. Great way to spend a day - active and enlightening!
2014:
October 18th:
Church Grove Community Self-Build - How Can It Work? Rural Urban Synthesis Society Open Day A talk on Community Networking and the power of the people. Spoke about some inspirational housing examples, including LILAC, Open Source Ecology's MicroHouse, WikiHouse, Village Homes, Sanford Housing Co-op, and more.
September 10th - 14th:
Open Everything - A Collaborative Economy Convergence I've always wanted to visit Cloughjordan Ecovillage and so when the opportunity to join the P2P Foundation team presented itself I couldn't resist. There wasn't really a clear plan of what my role would be but after a very enjoyable rail, sail and cycle there I ended up joining a panel discussion and leading a session on housing co-ops. Huge thanks to Davie Philip for making it all possible.
August 16th:
Off Grid One Planet Community Festival Joined a panel discussion on Common Futures with Annemarie Naylor and Alex Lawrie:
Also made the website.


August 2nd:
Green Gathering Panel discussion on Commoning & Community Ownership with Stir Magazine's Jonny Gordon-Farleigh and Zoe Wangler from the Ecological Land Co-operative.


May 7th:
OuiShare Fest 2014 Gave talk on "Designing an Open Organisation" as part of a Panel on "Work, Distributed: Horizontal, Liquid & Collaborative organizations" and Co-Moderated the Sharing for Real: What Cooperatives and Collaborative Governance have to offer session, including hosting a discussion about Open Co-ops.
2013:
September 15th
Interviewed by London Permaculture's Stefan Geyer on 21st Century Permaculture Radio

August 2nd-4th:
Talking about Building Man Festival with Marcus Letts at Cloud Cuckoo Land Festival.


July 14th:
London Permaculture Festival In this talk I gave some background about United Diversity and shared some ideas for future plans.


2012:
December 8th-9th:
Spoke at RUSS event at Sanford Housing Co-op

April 11th:
Spoke at the Inspiring Minds Forum on Creating Co-operative Communities



2011:


March 22nd:
Lead an Network Asset Mapping exercise for West Lexham @ Impact Hub Kings Cross



July 16th:
London Permaculture Festival Ran a workshop on Community Scale Infrastructure



June 4th:
London Green Fair Ran a workshop on Community Scale Infrastructure



July 21-24th:
Secret Garden Party Ran a workshop on Community Scale Infrastructure



2010


September 3rd - 5th:
UK Permaculture Convergence Lead two workshops. One on Making Websites with WordPress and another on Community Scale Infrastructure:


2006:


January 24th - 29th
As part of the Caracas Trollparty, I spoke on National Venezuelan Radio, gave a talk on Tools for Open Co-ops, and generally helped to find and organise an international team of Free Software practitioners to run a huge programme of activities as part of World Social Forum in Caracas, Venezuela.